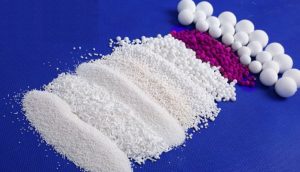 The pore volume of our macro porous pseudoboehmite is 0.8-1.2ml/g. It adopts tray dry. It is highly welcomed in the world.
Macro pore volume pseudoboehmite
is also called aluminum hydroxide dry glue or macroporous pseudoboehmite, a hydrate alumina, false monohydrate soft diaspore. It can used in different application according to the different production process .We use high purity aluminium hydroxide and ionic membrane alkali as raw materials, after the carbonation to produce series of macroporous pseudo boehmite( macroporous pseduboehmite) with different process.
Classfication of Macroporous Pseudoboehmite:
Normal Psudoboehmite

Low sodium(soda) Pseudoboehmite

Large pore(Macroporosity) Pseudoboehmite
Characteristics of Macroporous Pseudoboehmite:
Highpeptizing ability

Large surface area and big pore volume
Item

Unit

Technical requirement

No.

 

NH-P-DF-1

NH-P-DF-2

NH-P-DF-3

Fe2O3

%

≤0.03

≤0.03

≤0.03

Na2O

%

≤0.1

≤0.1

≤0.1

SiO2

%

1.0-2.0

1.0-2.0

1.0-2.0

Surface area

㎡/g

≥280

≥300

≥320

Pore Volume

ml/g

0.85-0.95

0.9-1.0

0.9-1.2

Dry basis

%

≥70

≥70

≥70

impurity

%

≤3

≤3

≤3
 Application of macroporous pseudoboehmite:
Macroporous Pseudoboehmite is widely used in petroleum distillate fuel hydrogenation catalyst, and pyrolysis gasoline hydrogenation catalyst and chemical catalyst, and other fields.
Storage of macroporous pseudoboehmite:
Avoid moisture, avoid scrolling, throw and sharp shocking during transportation, rainproof facilities should be readied..

It should be stored in dry and ventilated warehouse to prevent contamination or moisture.
Large pseudoboehmite package:
| | | |
| --- | --- | --- |
| Type | Plastic bag | Super sack/Jumbo bag |
| Powder | 25kg/55lb | 1000kg/ 2200 lb |
welcome inquiry us carrier@catalystcarrier.net