Catalyst carrier raschig rings
We adopt the most advanced technique to produce ring and cylinder carriers with the raw materials of alumina, magnesia, various composite oxides and so on. The appearance includes raschig rings, single hole or porous cylinder, ribbed cylinders with single or multi holes, cylinders with flutes etc. Compared to the traditional technique, the new technique makes the products more uniform, which strengthens the following process (e.g.: carriers impregnated) and increase the service life of the catalysts.
The catalyst carrier raschig rings main physical properties are as following:
Diameter:     5-35 mm;

Bulk density:  0.4

-

1.3 g/cm3

;

Pore volume:  0.1

-

0.5 cm3/g.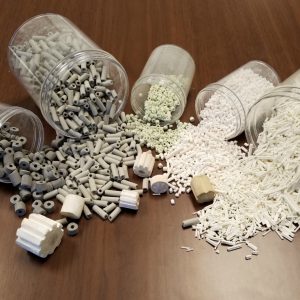 Catalyst carrier specification
| | | | | | | | | | |
| --- | --- | --- | --- | --- | --- | --- | --- | --- | --- |
| Compenent | Appearance | Size | Bulk Density(kg/l) | BET | Pore Volume(ml/g) | Crushing Strength(N/Particle) | Na2O % | Al2O3 % | Water absorption |
| Al2O3·nH2O | Round bar | 3*(4-10) | 0.55-0.65 | ≥ 150 | ≥ 0.50 | ≥ 100 | ≤0.10 | ≥ 94 | ≥ 70 |
| Al2O3·nH2O | Trilobe | 3*(4-10) | 0.55-0.65 | ≥ 150 | ≥ 0.50 | ≥ 100 | ≤0.10 | ≥ 94 | ≥ 70 |
| Al2O3·nH2O | Round bar | 3*(4-10) | 0.5-0.6 | ≥ 220 | ≥ 0.60 | ≥ 90 | ≤0.10 | ≥ 94 | ≥ 70 |
| Al2O3·nH2O | Trilobe | 3*(4-10) | 0.5-0.6 | ≥ 220 | ≥ 0.60 | ≥ 90 | ≤0.10 | ≥ 94 | ≥ 70 |
| Si Al composite | Round bar | 3*(4-10) | 0.5-0.6 | ≥ 180 | ≥ 0.50 | ≥ 100 | ≤0.10 | ≥ 84 | ≥ 65 |
| Si Al composite | Trilobe | 3*(4-10) | 0.5-0.6 | ≥ 180 | ≥ 0.50 | ≥ 100 | ≤0.10 | ≥ 84 | ≥ 65 |
| Ti Al composite | Round bar | 3*(4-10) | 0.55-0.65 | ≥ 150 | ≥ 0.45 | ≥ 90 | ≤0.15 | ≥ 84 | ≥ 72 |
| Ti Al composite | Trilobe | 3*(4-10) | 0.55-0.65 | ≥ 150 | ≥ 0.45 | ≥ 90 | ≤0.15 | ≥ 84 | ≥ 72 |
| Al2O3·nH2O | Round bar | 3*(4-10) | 0.70-0.80 | ≥ 180 | ≥ 0.40 | ≥ 80 | ≤0.10 | ≥ 94 | ≥ 50 |
| Al2O3·nH2O | Ball | Φ3-4 | ≥ 0.68 | ≥ 170 | ≥ 0.45 | ≥ 70 | ≤0.20 | ≥ 94 | ≥ 65 |
| Al2O3·nH2O | Ball | Φ5-7 | ≥ 0.68 | ≥ 170 | ≥ 0.45 | ≥ 130 | ≤0.25 | ≥ 94 | ≥ 50 |
| Al2O3·nH2O | Ball | Φ4-6 | 0.55-0.60 | ≥ 250 | ≥ 0.45 | ≥ 60 | 0.10-1.00 | ≥ 94 | ≥ 60-70 |
| Al2O3·nH2O | Trilobe | 3*(4-10) | 0.45-0.60 | ≥ 350 | ≥ 0.65 | ≥ 70 | ≤0.10 | ≥ 95 | ≥ 80 |
carrier@catalystcarrier.net
More