Alumina support Chloride adsorbent activated alumina removal chloride 
LS104 alumina support chloride adsorbent is an adsorbent used to adsorb and remove chloride from Naphtha, natural gas, H2, N2, NH3, CO, CO2 & other feed gas in petrochemical.

It is good effeient to remove chloride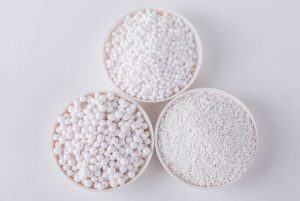 Activated alumina removal chloride ball information
In petrochemical production process, chlorine in feed gas could cause poisoning of a variety of catalyst and adsorbent, the failure of adsorbent & catalyst performance, severely corrosivity of devices & equipment, so chlorine removal is necessary. Usually, we adopt solid antichlor to remove chloride in feed gas.  LS-104 alumina support chloride adsorbent is an high- efficient product to take off chlorine.
There are series types-Pellets(LS104P) and beads(LS104B)
Various size available for the international condition.
1/8" (3.2mm), 3/16"(4.7mm)
Characteristics of alumina support chloride adsorbent
Uniform size

Even and Uniform activity under high and low temperature

Good water resistance and strong strength

Uneasy movable active components & chlorine after reaction

Wide application area 
Working service of Activated alumina for removal of chloride
Working temperature:5-400℃

Working pressure: ordinary pressure- 0.8MPA

Space velocity: 1000-3000h-1

Bed height-diameter ratio: >3

Dechlorination ratio: ≥99.9%
Item

Unit

Technical requirement 

Appearance

White bead

Particle   size

mm

3-5mm, 2-4mm

AL2O3+promotor

%

≥93

Bulk   density

g/cm³

0.75-0.8

Surface   area

㎡/g

≥130

Pore   Volume

ml/g

≥0.4

Penetration of chlorine capacity(50℃)

%

≥12

Penetration of chlorine capacity(250℃)

%

≥22

Crushing   Strength (N/Particle)

N/particle

≥85
carrier@catalystcarrier.net