High Efficient Activated Alumina Ball Potassium Permanganate Ethylene Gas Absorber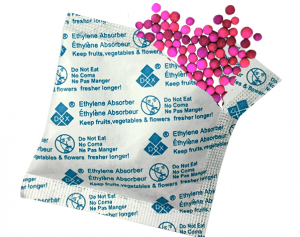 Ethylene Absorber pole:
Ethylene Absorbing pole extend the shelf life of fruits, vegetables and flowers in a packaged or bulk environment. Made with natural occurring zeolites, these products remove unwanted ethylene gas through the oxidation process, thereby ensuring the quality of freshness of the product while in transit or in storage.
Ethylene Absorbing pole  and Filters can be used with a wide variety of agricultural products, including: apples, kiwis, bananas, avocados, onions, citrus, fresh flowers and many others. Ethylene Absorbing Packets are available in three sizes: 5,10 & 30 -1000grams.
Advantages:
Eliminates decay, mold, discoloration, wilting, softening, scald, loss of crunch and many other negative effects caused by ethylene gas.
Use during Post-harvest handling to slow down the ripening process of fruits, vegetables and flowers.
Use during domestic and international shipments traveling via ocean, truck, rail and air.
Non-toxic, chemically inert, can be disposed of as normal waste.
 FDA approved, non-dusting & non-tearing (packets only).
| | | | |
| --- | --- | --- | --- |
| Packet sizes | Packet dimensions | Packing quantity | QTY/CTN |
| 3grams | 45*50mm | 200pcs/foil bag | 5000PCS/CNT |
| 5grams | 45*60mm | 100pcs/foil bag | 2000PCS/CNT |
| 10grams | 65*70mm | 100pcs/foil bag | 1200PCS/CNT |