Environmental catalyst support media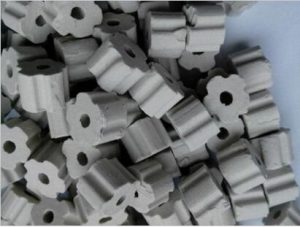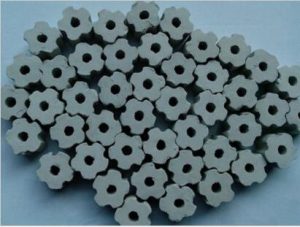 use high-purity aluminum oxide as raw material and add specialty additives, most often functioning as a protective agent for catalysts. In reaction towers, a certain amount of impurities will be filtered by material filter. However, particles and iron ions smaller than 25μm will still remain. By installing the inert catalyst bed support balls on the top of rector, these impurities will be totally adsorbed and left in the holes, allowing catalysts will not go coking.
Outstanding features of environmental catalyst support media
1. The hollow structure and surface grooves of inert ceramic support media assures a certain crushing strength, meanwhile, increase the specific surface area and porosity.
2. With a porosity of 40-50%, the environmental catalyst support media is capable to filter particles, glues, asphaltene and heavy metals in oil products.
Parameters of environmental catalyst support media
| | | | | | | | | |
| --- | --- | --- | --- | --- | --- | --- | --- | --- |
| Model Items | LS-1A | LS-2A | LS-3A | LS-4A | LS-5A | LS-6A | LS-7A | LS-8A |
| Size, mm | φ 6 ×4 | φ 8 ×6 | φ 10 ×7 | φ 13 ×9 | φ 16 ×12 | φ 20 ×15 | φ 25 ×18 | φ 35 ×20 |
| Pore diameter, mm | 1.2 | 1.5 | 2 | 2.5 | 3 | 4 | 5 | 6 |
| Recess diameter, mm | 1.5 ±0.5 | 2.0 ±0.5 | 2.5 ±0.5 | 2.5 ±0.5 | 3.0 ±0.5 | 4.0 ±0.5 | 5.0 ±0.5 | 4.0 ±0.5 |
| Number of groove | 3 | 3 | 3 | 5 | 5 | 5 | 5 | 5 |
catalyst support media physical properties & chemical properties
Model Items

LS-1

LS-2

LS-3

AL2O3% +SiO2 % Fe2O3 %

20-80

> 92

< 1

Crushing strength, N/particle

100-20000, depending on the media size

Air permeability, m3/m3.h

0.2-0.8

1~6

7~30

Porosity, %

30-40

25-35

20-30

Pore size, υ m

0.5-35

40-100

110-1000

Acid resistance, %

≥ 98

≥ 98

≥ 97

Alkali resistance, %

≥ 85

≥ 85

≥ 82

Resistance to temperature shock, △ T ℃

-820

-820

780

Bulk density, T/m3

1.1–1.3

Model Items

LS- Ⅰ

LS- Ⅱ

LS- Ⅲ

Bulk density, T/m3

1.1-1.3

1.1-1.2

1.1-1.25

Pore volume, ml/g

0.5-0.6

Resistance to temperature shock, △ T ℃

480

580

580

Using temperature, ℃

-1390

Crushing strength, N/particle

2500-3500 depending on media size
carrier@catalystcarrier.net