Catalytic beds protective agent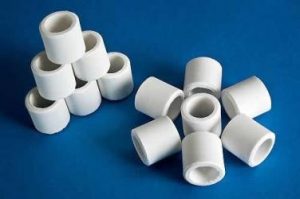 Characters : LSC-02 catalytic beds protection is prepared through processes of grinding, shaping and high temperature sintering, taking alumina as the main raw material.
 High strength, chemical stability and impact resistance

Large space rate and high dirt capture ability
Applications and operating conditions
LSC-02 is used in refinery hydrotreating, coal chemical, etc. As a catalyst beds protectant LSC – 02 can effectively control catalyst pressure drop, filled at the top of catalyst beds in a certain proportion, providing larger pore volume and larger space volume, effectively removing and accommodating mechanical admixture from the raw material, which inhibits the rise of catalyst pressure drop and extends the operation cycle .
Physico-chemical properties
| | |
| --- | --- |
| Color and shape | White, raschig ring |
| Size(mm) | Φ10×10 |
| Al2O3%(m/m) | ≥99 |
| Space rate%(V/V) | ≥55 |
| Bulk density(kg/L) | 0.85~1.00 |
| Crushing strength(N/granula) | ≥180 |
Package and transportation
Packed with plastics kitting bag lined with plastics bag, net weight 40kg (or customized as per customer's demand)

Prevented from moisture, raining, rolling, sharp shocking during transportation

Stored in dry and ventilated places, preventing from pollution and moisture

carrier@catalystcarrier.net